Locative Media
Abaixo alguns projetos e sites interessantes tendo como tema as "mídias locativas" ainda não informados nesse Carnet. Os sites estão nos links do blog "04 fourwalling" sobre Locative Media. Para mais sobre o tema veja meu artigo "Mídia Locativa e Territórios Informacionais".
Segundo Marc Tuters and Kazys Varnelis, "locative media projects can be categorized under one of two types of mapping, either annotative—virtually tagging the world—or phenomenological—tracing the action of the subject in the world. Roughly, these two types of locative media—annotative and tracing—correspond to two archetypal poles winding their way through late 20th century art, critical art and phenomenology, perhaps otherwise figured as the twin Situationist practices of détournement and the dérive."
Um primeiro projeto é o Photography and mapping from Afar de Timo Arnall (ele tem outros projetos nessa linha). O projeto é um mapeamento com GPS de seus percursos diários com fotos: "Exploring the space of narrative, images and personal geography. For three months I recorded every walk, drive, train journey and flight I took, while photographing spaces and places from daily life."
Toch é um projeto que coloca em interface o espaço físico e telefones celulares desenvolvendo aplicações que permitam que as pessoas possam interagir com objetos no espaço urbano com os dispositivos móveis: "Touch is a research project that investigates Near Field Communication (NFC), a technology that enables connections between mobile phones and physical things. We are developing applications and services that enable people to interact with everyday objects and situations through their mobile devices. Touch consists of an inter-disciplinary team involved in social and cultural enquiry, interaction/industrial design, rapid prototyping, software, testing and exhibitions."
Beta Tank reúne uma série de projetos em design e arquitetura de ambientes (Progress Bar, Bubble Screen, Art Bar, Intercative Window…) colocando ênfase na relação do espaço e as informações: "Beta Tank is a design practice interested in applications of ambient information. Using existing technology and infrastructure to create a world where the right type of information arrives in an appropriate way. Above you will find links to Beta Tank's projects."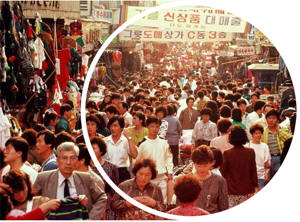 Urban Atmosphere é um conjunto de pesquisa e metodologias de análise sobre o espaço urbano, as paisagens e as relações sociais em meio às novas tecnologias digitais móveis como bluetooth, celulares, redes wi-fi. É um esforço conjunto de centros de pesquisa da Intel: "We argue that now is the time to initiate inspirational research into the very essence of these newly emerging technological urban spaces. We desire to move towards an improved understanding of the emotional experience of urban life. We are currently conducting a number of Urban Probes – a lightweight, provocative, intervention methodology designed to rapidly deconstruct urban situations, reveal new opportunities for technology in urban spaces, and guide future long term research in urban computing. In fact the very essence of person, place, and community are being redefined by personal wireless digital tools that transcend traditional physical constrains of time and space. New metaphors for visualizing, interacting, and interpreting the real-time ebb and flow of urban places will emerge. Urban Atmospheres is focused on exposing, deconstructing, and understanding the challenges of this newly emerging moment in urban history and its dramatic influence on technology usage and adoption."
Ambient Space reúne uma série de experiências em informações visuais e sonoras dos espaços urbanos. Os projetos visam criar esculturas sonoras e visuais revelando informações dos espaços públicos: "Ambientscape creates virtual and sonic sculptures through analysizing an environments soundfields; changing acoustics, inherent frequencies~standing waves, fundamental and harmonic frequencies. Creating a synthesis of digital and sonic space – a virtual and sound environment, not just receiving information but generating unique sculptural forms. Ambientscapes is a computer system developed in MAX/MSPJitter – where in nature,the urban environment and the public provide endless permutations of acoustics soundfields. In turn this sonicl stimuli becomes the raw data through which the artist Sam Jones creates reactive 3D generative structures, sculpted in virtual space. These 3D sculpted forms are programmed to evolve and shape organically in response to the space's unique physical and acoustic properties."
Os jogos pervasivos ou "asphaltics games", ou "wireless street games", são propostos e discutidos no site IPerG, "Integrated Project of Pervasive Games", reunindo vários jogos que exploram as tecnologias móveis digitais e os espaços das cidades. "Pervasive games are a radically new game form that extends gaming experiences out into the physical world. To achieve a high quality interactive experience for these games, new technologies to support the creation of new compelling forms of content will be explored by this consortium."
O projeto Super Vision explora a questão do controle e da vigilância no que eles chamam de sociedade "post-private" onde dados informatizados pessoais ameaçam a vida privada. O projeto faz parte do The Builders Association, uma companhia que reúne artistas que exploram as tecnologias contemporâneas, as artes visuais, o teatro e a arquitetura.
Stay Tuned!