Realizados
Come and Go (2016) – GPS writing a pé em Dublin (2016) em um só dia, inspirado na peça homônima de Samuel Beckett.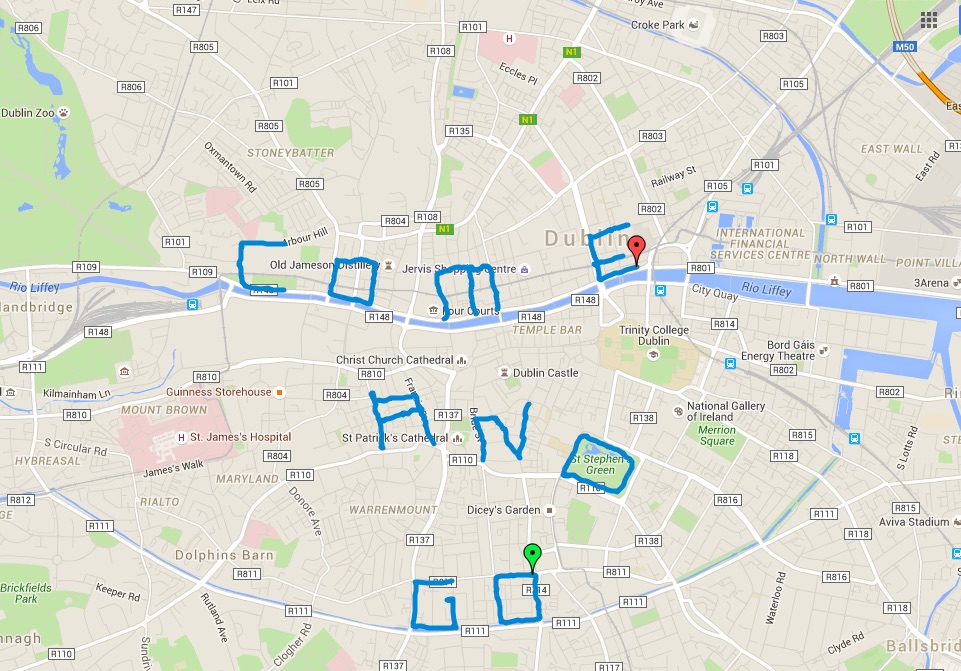 Sun May 29 2016
29 de maio de 2016 17:17,  Points: 1593, Length: 9.06 km, Duration:  1:54:23, Moving:  1:30:35, Stopped:  23:48, Mx. Speed: 18.3 km/h, Av. Speed: 4.8 km/h, Elev. High: 26 m, Elev. Low: -14 m, Tot. Desc: 31 m, Tot. Asc: 45 m, Moving Sp: 5.5 km/h, Av. Pace:  12:38 min/km, Mov. Pace: 10:58 min/km
Memória das Coisas. Projeto que visa contar a história dos objetos (encerrado).
Squared-Time – Vídeo mostrando uma webcam em Times Square, NY. Interface, globalização, mobilidade, espaço urbano, visibilidade. 2010. Selecionado e exibido no Salão de Artes Audiovisuais do Recôncavo, Cachoeira, Bahia, 2010.
IDENTITÉ – Escrita com GPS em Montreal, Canadá, de bicicleta, escrevendo a palavra Identité. Identidade é uma questão central para a compreensão do Canadá e particularmente do Québec. 2008. O processo de producão do mapa digital com a escrita gravada em um arquivo no GPS tracker é simples, rápido e… mágico. Liga-se o aparelhinho, executa-se o projeto (traçar um percurso, escrever uma palavra ou fazer um desenho) e depois deliga. O passo seguinte é exporta o arquivo em um formato que possa ser lido por um programa e colocado em um mapa. No caso do IDENTITÉ, fiz um projeto para percorrer e escrever a cidade de uma só vez, com o GPS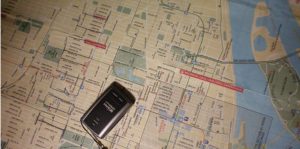 SUR-VIV-ALL (survivall) – Escrita com GPS em Edmonton, Canadá, em 40 km de carro escrevendo a palavra Survivall. O tema é central do imaginário canadense (ver Atwood). 2008. SUR-VIV-ALL in Edmonton is a GPS writing project in which traces are made on Google Maps using a GPS logging device to track an itinerary.  Here we present a new class of art – locative art — which mobilizes locative media and articulates the relationship between it and everyday life and embodiments in place.
Ciberflânerie – Escritas aleatórias com GPS. Arte da deriva e psicogeografias em diversas cidades do mundo, 2007 (finalizado)
https – high tech total popular stickers – Adesivos para serem impressos com frases sobre a relação homem – novas tecnologias, 2004. (finalizado)
404nOtF0und Publicação eletrônica internacional centrada nas particularidades da cibercultura. Criada em fevereiro de 2001. ISSN 1676-2916. Finalizada.
Janelas do Mundo – Experiência de ciberliteratura coletiva em blog onde as pessoas escreviam sobre o que viam das mais variadas janelas do mundo. 2001.(finalizado)
CyberUrbe/ SoulCyber (2002)
cyBeRpunk (2000)
Hypertext (1998)