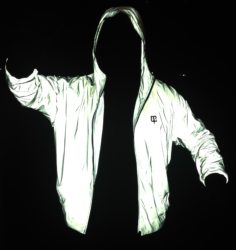 Me, wearing a Chris Holmes anti-paparazzi hoodie. This Carnet de Notes is online since Mars, 2001.
I'm an engineer by training, MSc in Science and Technology Policy (COPPE/UFRJ, 1991) and PhD in Sociology (Université René Descartes, Paris V, Sorbonne, 1995). Full Professor at Faculty of Communication (FACOM) at Federal University of Bahia (UFBA), Brazil, director of Lab404 – Digital Media, Networks and Space Lab. I'm advisor of Theses and Dissertations on Cyberculture Studies on the PhD Program in Communication and Culture and member of editorial boards in scientific journals in Brazil and worldwide. I'm senior researcher fellow (level 1A) at National Scientific Council (CNPq/MCT-Brazil),
Former President of Brazilian Association of Communications PhD Programs, former Chair of the Department of Communication (FACOM/UFBA) and former director of PhD Program in Communication and Culture (PPGCCC-FACOM/UFBA).
I've been visiting scholar  at University of Alberta and McGill University, Canada (2007-2008) (CNPq Grant) and at National University of Ireland, Maynooth, Ireland (2015-2016) (Capes Grant).
Links
E-Mail:
alemos@ufba.br
alemos@pesquisador.cnpq.br
almlemos@gmail.com
Twitter:
@andrelemos
Institucional Address:
Universidade Federal da Bahia
Faculdade de Comunicação
Programa de Pós-Graduação em Comunicação e Cultura Contemporâneas
Rua Barão de Geremoabo, s/n, Campus de Ondina
CEP 40.170-115 Salvador, Bahia – Brazil
Tel.: (+ 55 71) 3283 6193 E-mail: pos-com@ufba.br