Vigilância de Catástrofes
Matéria do El Mundo mostra como as ferramentas da Web 2.0 (blogs, microblogs como Twitter, softwares sociais como Facebook, google maps, google earth, além do uso de SMS e telefones celulares), podem ajudar as populações em situação de crise. Alertas não são novos e já há algumas iniciativas de uso de ferramentas m;óveis e web 2.0. Por exemplo, várias universidades americanas usam serviços de alerta por SMS após massacres causados pelos próprios estudantes, há serviço de aletra para furacões, tsunamis, etc. Veja meu artigo "Cibercultura e Tsunamis" para mais detalhes.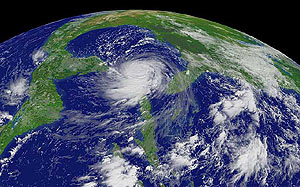 Imagem do Katrina (foto Reuters).
A novidade é a criação do Innovative Support to Emergencies, Diseases and Disaster (InSTEDD), que busca ser uma referência e um canal para os alertas. Vejam trechos da matéria Vigilancia de catástrofes y herramientas 2.0 de Pablo Romero:
"Las herramientas de la web social más populares se ponen al servicio de la protección civil frente a catástrofes, como huracanes, maremotos o alertas sanitarias. Nace una ambiciosa iniciativa 'online' abierta a todos para ayudar frente a desastres.
La información ciudadana en catástrofes a través de la Red es algo que existe desde hace años, aunque de forma más o menos espontánea. ¿Se acuerdan del Tsunami que arrasó el sudeste asiático en 2004?
Este proyecto, denominado Innovative Support to Emergencies, Diseases and Disaster (InSTEDD), busca ser una referencia permanente para canalizar este tipo de colaboración.
InSTEDD, cuyo presidente es Eric Ramussen, un ex asesor de la oficina del secretario de Defensa de EEUU, plantea la posibilidad del uso de 'software' social, concretamente herramientas de 'nanoblogging' como Twitter o sitios de redes sociales como Facebook. Todo ello, para identificar posibles amenazas para la población, desde brotes de la temida gripe aviar hasta desastres como el tristemente famoso huracán Katrina.
El uso de las tecnologías de la web 2.0 podrá servir, desde esta plataforma, para coordinar respuestas de rescate y para salvar vidas, como un apoyo a los mismos gracias a la ubicuidad de las herramientas. Se pretende, en definitiva, llegar adonde las autoridades o los medios no alcanzan.(…)".