Radiohead. Reconfiguração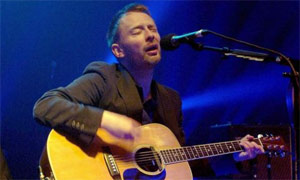 Foto do The Guardian Unlimited
Vários jornais e a blogsfera estão noticiando o novo álbum da banda inglesa Radiohead que sairá em breve apenas em formato digital para download. A novidade é que o comprador dá o preço e paga o que quiser. A banda tenta assim, junto com outros artistas, criar novas reconfigurações da indústria cultural e escapar das 4 grandes gravadoras que dominam o mercado fonográfico. Vejam a matériaRadiohead to let music fans set price for its new album do – International Herald Tribune.
Trecho:
"It is the question of the moment in music circles, where a short but growing list of recording stars that includes Prince, Madonna, Nine Inch Nails and – as of Sunday – Radiohead have indicated their willingness to depart from the conventions of music sales and the control of the four multinational corporations that dominate the industry.
In the latest instance, the members of Radiohead, the respected British rock act, said that the band would sell its new album, at least initially, exclusively as a digital download and allow fans to decide how much to pay for it, if anything. In a statement Monday, the band said it had begun taking orders for the album, "In Rainbows", which will be available Oct. 10.
The band also said it expected a conventional CD release of the album early next year, though Radiohead, which fulfilled its contract with the music giant EMI Group with the delivery of the 2003 album "Hail to the Thief," has yet to settle on specifics.
An array of labels of various sizes are said to be on the hunt for the rights to distribute the album, though the value of such a deal for a record company could be reduced if the band elects to keep the digital sales entirely to itself, leaving only sales of the old-fashioned plastic CD.(…)"