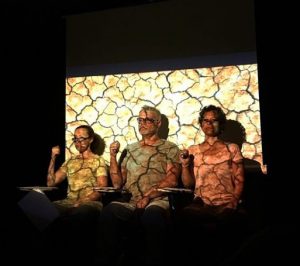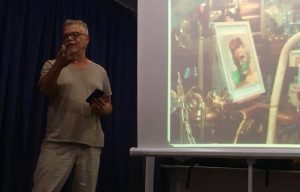 Dia 13, fizemos a leitura dramática da peça Play (Comédia) de Samuel Beckett (com Fafá Menezes,  Cris Leifer e direção de Enjolras Oliveira).
Depois falei sobre o meu livro "O Fantasma de Beckett" que será lançado em breve pela editora Sulina, Porto Alegre.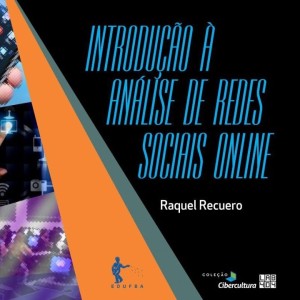 Saindo o quarto livro da coleção Cibercultura, parceria da EDUFBA com o Lab404 (Poscom/Ufba): "Introdução à Análise de Redes Sociais Online" de Raquel Recuero.
A Análise de Redes Sociais (ARS) é uma abordagem de pesquisa cuja popularidade tem aumentado nos últimos anos, principalmente, entre os pesquisadores da área de Comunicação. É nesse âmbito que várias obras, entre artigos e livros, vêm surgindo e introduzindo o estudo dessas estruturas a partir da análise de redes e da compreensão da representação dessas redes sociais na internet. Este livro é uma pequena compilação dos principais conceitos e elementos para a compreensão e a aplicação da ARS. O livro de Raquel Recuero é baseado em uma breve apresentação e histórico do paradigma, os principais conceitos, suas métricas e, finalmente, suas formas de representação e visualização. O livro está disponível gratuitamente no repositório da UFBA (aqui), ou diretamente em epub (aqui).
NOVEMBER 27, 2017
No dia 29/11 falo sobre IoT, Sensibilidade Performativa e Privacidade no Simpósio da
LAVITS
 2017 em Santiago, Chile.
Participo do "Seminário Cidades Imaginadas" no próximo dia 29 na PUC-Rio. Estarei no painel "De volta à rua" mediado por Maria Alice Rezende de Carvalho,  com a participação de Antonio Engelke (UERJ) e Bruno Carvalho (Princeton University).
Mais sobre o evento aqui
Participo na próxima quinta, dia 20, da mesa redonda "TECNOLOGIAS MÓVEIS DISRUPTIVAS (SBPC Inovação)" com a coordenação do querido Nelson Pretto (UFBA). Estarei ao lado de Daniel de Queiroz Lopes (UFRGS) e Adriana Rocha Bruno (UFJF). Acontece das 15h30 às 18h00 no CAD 2 – Sala B 304 A. Minha palestra será sobre os desafios da Internet das Coisas.
Participo do debate Cidades Inteligentes? Sociedade e Tecnologia em Debate na Poli USP (InternetLab / CEST) dia 23/06, próxima sexta. "Cidades Inteligentes? Sociedade e Tecnologia em debate" propõe apresentar ao público um debate estruturado, multidisciplinar e transversal envolvendo especialistas de áreas técnicas (engenharia e normas), da saúde pública e das humanidades (direito e urbanismo) acerca dos desafios e oportunidades que emergem junto com a nova matriz de governança urbana baseada em dados coletados por dispositivos eletrônicos embarcados no meio ambiente urbano. (…)
Continue reading"Cidades Inteligentes?"
Meu romance "O Fantasma de Beckett", escrito em Dublin em 2015-2016, saindo no segundo semestre pela editora Sulina (Porto Alegre)
Aguardem!
A mesa de abertura do III Paisagem Sonora, "Paisagens, atores e rede", reúne os pesquisadores André Lemos (Ufba), Simone Pereira de Sá(UFF) e o artista Brian Mackern(Montevidéu/Uruguai). Esse encontro acontece no dia 27 de abril (quinta-feira), no Teatro dona Canô, às 19 horas, em Santo Amaro, Bahia. #paisagemsonorabahia
Artigo recém-publicado na Revista P2P & Inovação do IBICT:
Lemos, A. Smart Cities, internet of things and performative sensibility. Brief analysis on Glasgow, Curitiba and Bristol's Initiatives. In P2P & INOVAÇÃO, Rio de Janeiro, v. 3 n. 2, p.80-95, Mar./ Set. 2017. e-ISSN – e-ISSN 2358-7814, DOI – http://dx.doi.org/10.21721/p2p.2017v3n2.p80-95
Na apresentação do editor, Clovis Ricardo Montenegro de Lima:
Meu livro, A comunicação das Coisas, Teoria Ator-Rede e Cibercultura, finalista do Jabuti 2014, e esgotado desde a primeira edição, está de novo disponível.
O livro pode ser encomendado pelo site da Annablume , diretamente na Companhia dos Livros (a rede de livrarias da Bookpartners com um eficiente site de vendas)  ou nas centenas de livrarias atendidas pela Empório do Livro.
Vou fazer a palestra de encerramento do Seminário intitulado "Direito e Cibernética", que ocorrerá no dia 29/03/17, no turno matutino, no prédio da Faculdade de Direito da Universidade Federal da Bahia.
Resumo: Os Desafios Atuais da Internet das Coisas.
Os principais desafios da Internet das Coisa (IoT) estão no estabelecimento de protocolos e padrões que façam com que os objetos conversem de forma mais segura para usuários, governos e empresas.
O LAB404 convida para mais uma edição do projeto interseções.
O Professor Cassio Prazeres (UFBA) fala sobre a Internet das coisas (IoT) e o projeto Smart-UFBA desenvolvido no WISER/CNPq – laboratório de pesquisa que coordena na instituição. Prazeres defende que a grande variedade de coisas e dispositivos do dia-a-dia que podem ser disponibilizados na IoT demanda por infraestruturas capazes de gerenciar a publicação, descoberta, composição, utilização e o compartilhamento desses dispositivos na rede. Como resposta a essas questões, o projeto Smart-UFBA apresenta uma proposta de infraestrutura para disponibilização de dispositivos físicos na Internet, com foco em automatizar a criação de aplicações para um Campus Universitário Inteligente.
Bruno Latour – Reagregador do Social
Texto no Caderno de Sábado no jornal Correio do Povo de Porto Alegre.
BRUNO LATOUR, REAGREGADOR DO SOCIAL
André Lemos
O filósofo americano Graham Harman chamou Bruno Latour de "Príncipe das Redes". De fato, se podemos resumir o pensamento complexo do sociólogo francês, esta parece ser uma boa expressão. Em toda a sua vasta obra, Latour busca descrever e analisar as redes entre elementos humanos e não humanos que vão constituir o social. Este é menos o contexto de onde domínios específicos (política, ciência, economia) emergem, do que o resultado particular de mediações em uma vasta rede. Portanto, menos interessado em grandes explicações, como estão aqueles que ele chama de "sociólogos do social", Latour faz uma "sociologia das associações", fiel à origem do termo social ("o que associa", inspirado em Gabriel de Tarde), das mediações, das redes.