Pop Culture and OLPC
Ontem aconteceu aqui a Pop Culture Fair, evento reunindo colecionadores e aficcionados por musica, quadrinhos, t-shirts…Muitas pessoas circulando e um excelente ambiente.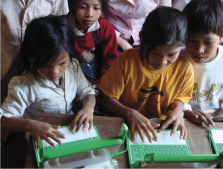 E acaba de chegar nas escolas o XO, o laptop do MIT para criancas. As escolas em Toronto comecam a usar e o preco, a partir de 12 de novembro sera de CAD $188.00, ou dois por CAD $399, sendo que um ira para uma crianca de paises em desenvolvimento:
"Starting November 12, One Laptop Per Child will be offering a Give 1 Get 1 Program for a brief window of time in North America. For $399, you will be purchasing two XO laptops—one that will be sent to empower a child to learn in a developing nation, and one that will be sent to your child at home.".