GPS Deer Blog
Blog e GPS tracking de animais, no caso Deers. Aqui vemos o cruzamento de localização e blogs no dia a dia do animal, usando telefones celulares com GPS e SMS (via Pasta&Vinegar):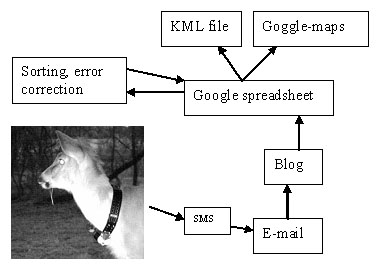 Processo de "Mail to Map/SMS-to-Map/Mail to Google Earth".
No site do Via pode-se ler:
"a deer named "Thor" now has his own blog where he shares his GPS position every five minutes. Someone named 'Siberian' at the Google Earth Community posted how he managed to make this happen. Turns out he had collared a deer they named "Thor" with a GPS and cellphone with SMS capability. They are studying deers living in suburban areas in Pennsylvania. Siberian then hacked up a way to use the resulting E-mail to create a spreadsheet which is then converted into a file you can use to track the deer in Google Earth [Google Earth File. You must have GE installed.] .
The system is totally automated using free services. His post goes into detail on how this was all accomplished. Siberian is using some tools by Valery Hronusov – who has developed and posted dozens of cool geo hacks for Google Earth (see his global rainfall example). Valery came up with the idea to let the deer blog his coordinates as well. (…)."